What is Skinade?
Skinade is an alternative skincare product. It has natural peach and mangosteen flavoured anti-ageing collagen drink. It is not to be mistaken as a collagen drink as it is a skincare
drink which contains collagen and a unique blend of micronutrients providing a perfect ratio of active ingredients to liquid.
These ingredients help to boosts your body's natural production of collagen and hyaluronic acid (hla) and improves the way your skin looks and feels in just the space of one month. The (hla) is a high quality collagen peptides that naturally produces this acid in the dermis. Comprehensive clinical studies confirm that the collagen peptides in Skinade offer exciting new anti-ageing and overall skin health benefits.
Skinade™ makers are from a British company by the name Bottled Science Ltd which was founded in 2012. It's been developed by leading UK scientists who have over 40 years of direct, multinational level industry experience within the drinks, food and functional beverage industry. They are primarily specialized in nutrition and pharmacology.
Now lets look into the ingredients that make up this great skincare product. Skinade contains 6 active ingredients:
Hydrolysed Marine Collagen
MSM
VIT C
B-Vitamin Complex
Omegas 3 & 6
All these ingredients combine to provide your skin with optimal nutrition promoting younger, better and healthier looking skin.
How Does Skinade Work?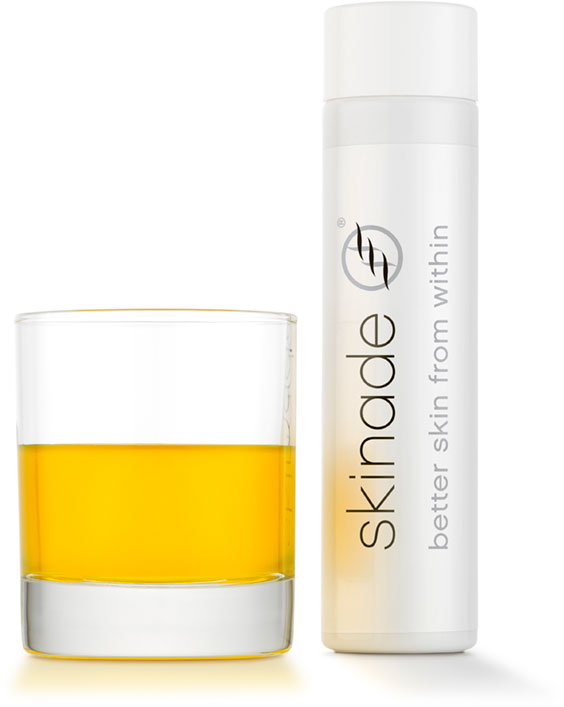 It works just as other high-end acne products where the collagen matrix found in Skinade rebuilds and strengthens the skin from the inside out. It boosts natural levels of hydration and reduce the fine lines, wrinkles and repairs connective tissue. This means that you will also experience stronger, healthier and faster-growing hair and nails.
The collagen in Skinade is sourced from freshwater fish which is of superior grade. Unlike the common saltwater fish, it avoids the contamination of mercury, PCN and high levels of sodium. Blending together with this, is the natural flavoring of peach and mangosteen which gives it a pleasant taste.
Skinade is suitable for both male and female (over 18 years). For best results, you need to take it to become part of your daily skincare regime. Drink one bottle each morning after breakfast. The B vitamins in it will give you an extra energy boost and you will not be experiencing any form of tiredness.
Even though Skinade does not really have to be stored in the fridge, it tastes better when chilled. However, you can't keep it too long without any refrigeration for days. The collagen inside might start to lose its nutrition.
Do not expect any miracles to happen overnight. It definitely takes time depending on the condition of your skin blemishes. You have to take it on a daily basis and be consistent with your intake. This will result in firmer, more even toned, hydrated, radiant, youthful and healthier looking skin.
So what about those who are traveling regularly for business? They can't possibly carry along these bottled drinks. So they made a 15ml sachet version each containing exactly the same level of essential nutrients as your normal bottle of skinade.
All you have to do is stir the contents of the sachet into half glass of cold water and consume.
Here is a good skinade product review by goodsurgeonguide.
Dr Taylor Barnes discusses about Skinade during the Olympia Beauty conference

Medical/Clinical Proof
The collagen peptides found in Skinade offer exciting new anti-ageing and overall skin health benefits including eliminating severe cases of acne blemishes. This has been proven by comprehensive clinical studies.
Two clinical studies were carried out each by France and Japan to prove the effectiveness of Skinade's collagen peptides. They handpicked about 80 women ranging from the ages of 35 to 59. One group of women were given 10g of the peptides to be taken orally. The rest were given a placebo.
The volunteers were then placed in a room with controlled temperature and humidity for about 20 minutes. This is to ensure consistent and accurate results. There were some noticeable changes. The group that have taken the collagen peptides showed a range of skin health improvements compared to the group who have taken the placebo.
After 8 weeks of observation, 91% of the peptide group showed significant improvement in skin hydration. A corneometer which is a device built to test the hydration levels of the epidermis showed that there was an increase of 28% compared to the placebo group. Skinade's collagen peptides helped to smooth fine lines by 26% and prevent deep wrinkle formations. It also increased the skin suppleness by 19%.
The Price Factor
Skinade comes in both bottled and sachet forms. Each has 4 packages categorized by 20, 30, 60 and 90 (Days) courses.
Bottle (150ml)
30 holiday edition course [NEW] –
(Packaging includes 20 x 150ml bottles & 10 x 15 ml sachets) = £93
30 day course = £90
60 day course = £180
90 day course = £270
Sachet (15ml)
20 day travel course = £66
30 day travel course = £99
60 day travel course = £198
90 day travel course = £297
There is an additional shipping charge of £6.
(Prices are subjected to changes)
Click Here to Learn More About Skinade!
Money Back Guarantee
If for any reason you are not happy with the product, you can return it within 14 days of the date you received your order. You must package your unopened boxes in the original box and enclose a copy of your invoice.
However refunds or exchanges are not offered on used or opened boxes of these products due to the it's perishable nature. The original shipping cost will also not be refunded and there is an administration charge to cover the collection of the order.
If all this is too much of a hassle for you, you are better off using the product and still stand to benefit from it anyway.
Pros
Highly stable and has a shelve life of 8 months.
Boost natural levels of hydration and reduce fine lines and wrinkles
Highly bio-available enabling the body to repair and renew connective tissue
Healthier, stronger and faster-growing hair and nails
An improvement in the appearance of cellulite
It's a multi award-winning anti-ageing collagen drink recommended by beauticians, dermatologists and cosmetic surgeons
Featured in many celebrity and beauty magazines as one of the best acne and anti-ageing skincare products

Cons
Only for adults 18yrs and above
Needs to be refrigerated
May experience a mild laxative detox effect
My Conclusion
It seems to me that the high grade collagen in Skinade is the real star of this acne treatment product. It not only reduces the skin blemishes, it also works as an anti-ageing skincare product. Skinade also works very well in the treatments of Eczema and Psoriasis.
You need to take Skinade on a daily basis to experience massive benefits. The downside is the price you have to pay for. If your acne or any other skin conditions are in an advanced stage, you may need to order the 90 day course to overcome it.
The overall safety of this product is considered highly organic. However you may still need to consult the physician before consuming it. This is especially the case for pregnant women or anyone taking any kind of oral treatments.
Overall, the Skinade collagen drink seems to be a very effective acne treatment and anti-ageing product. I would say it will give you great returns for every penny you spend on it and definitely a product worth reviewing here!