What is One™ by Clear Skin Max?
It is a multi-action powerful 3 in 1 liquid form of acne treatment. You probably need to apply just ONE drop at times on your affected area to treat it. I believe that's how the number ONE became part of its brand name. This is a product by Bauer Nutrition a renowned company which supplies and produces premium supplement products.
It is made up of 100% natural ingredients in Thyme, Bilberry Leaf, Calendula, Knotted Wrack, Yarrow, Witch Hazel, Grapefruit Seed and Lemon Oil. You probably never would have heard some of them and they are all natural herbs formulated together to zap the spots and soothe angry red skin.
It is also non-greasy and gives off a nice pleasant aroma when you apply it on your troubled spots. That would mean there are no smelling of any chemicals like benzoyl peroxide as it is a 100% natural acne treatment.
How does One™ Clear Skin Max work?
This is the easiest part. There are no multi-stages or steps needed for this spot treatment. First you need to cleanse the affected area carefully. You would normally want to use warm water and some mild soap or cleanser to do this.
Then you just need to use the dropper that has been supplied to add a few drops of One™ by Clear Skin Max to your fingertips and gently rub it on the acne area. Of course you need to have your fingers cleaned before doing this too.
Your skin would feel very soothed and smooth in no time. This is the work of the powerful concoction of the natural herbs rich in antioxidant properties.
If you are suffering from severe forms of acne, extra drops can be added to the skin during the day as it can help to really attack the troubled spots effectively.
Medical/Clinical Proof
Each of the eight above mentioned herbs play a role in making this incredible natural acne treatment to work extremely well. I will tell you what each of them does on your skin when applied a little detail here. You can read on if you really want to know more about this product.
Thyme has a much greater antibacterial effect than benzoyl peroxide as discovered by the scientists who conducted a study at Leeds Metropolitan University. The extract from bilberry leaf has strong anti-inflammatory properties as it contains tannin which helps to calm skin eruptions.
Calendula otherwise better known as the marigold has dual roles. Since it has great antibacterial properties, it helps to stop the spread of infection and at the same time boosts the production of collagen at the acne prone area. As a result dead skin cells are being replaced with new ones and so minimizes scarring.
Knotted Wrack is a form of seaweed. It has multiple roles too. It works along with Calendula to stimulate the renewal of damaged skin cells and thus improves the elasticity and adds suppleness to your skin. To add on further, it also tones and moisturises your skin.
Yarrow contains tannins and salicylic acid. They are anti-inflammatory and fights bacterial infection. It reduces the scarring during the healing process and evens out the skin around the affected area. Witch Hazel is something you probably heard of as it is commonely used among beauty products including acne treatments.
Its a well-known astringent and antidote to inflammation. It helps reduce red and angry looking blemishes very rapidly and your skin will look better and feel comfortable in no time.
The Grapefruit seed extract gives great support to the other ingredients as an all-around cleanser. It controls mild infection and prevent them from springing up.
Lastly but not least, the Lemon oil. Lemon itself has so many benefits for your skin and the oil itself acts as an antibacterial, antiseptic and anti-inflammatory astringent.
The Price Factor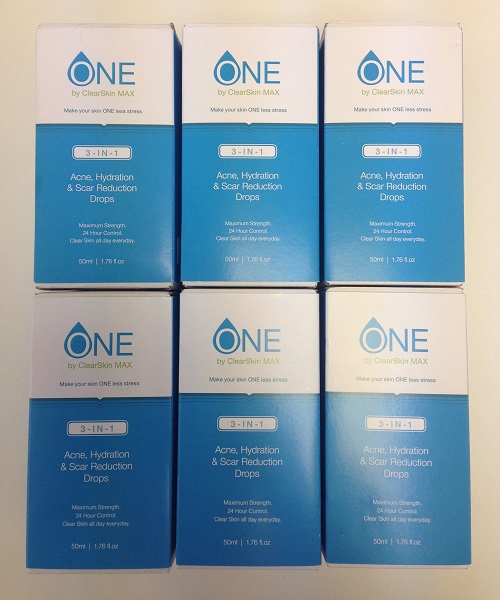 1 bottle = £59.95 (save £10.00)
2 bottles + 1 free = £119.90 (save £59.95)
3 bottles + 3 free = £179.85 (£179.85)
(Prices are subjected to changes)
Money Back Guarantee
You get absolutely a 60 day money back guarantee! If you happen to not like it for whatever reason, you can simply send it back within 60 days for a full refund. No questions asked!
Pros
Easy to use. No multiple stages or steps.
100% natural herbal-based extracts
Non-greasy and pleasant smelling
Eliminates scarring
It has no side effects
Fast results
Great support
Cons
I have not received any negative reviews so far. No products are perfect. In order to support this statement, I would just say that there was no mention of the shelf life of One™ by Clear Skin Max.
It doesn't really matter after all there is a 60 day money back guarantee. There is also a possibility that it will run out of stock sooner than expected due to high demand.
My Conclusion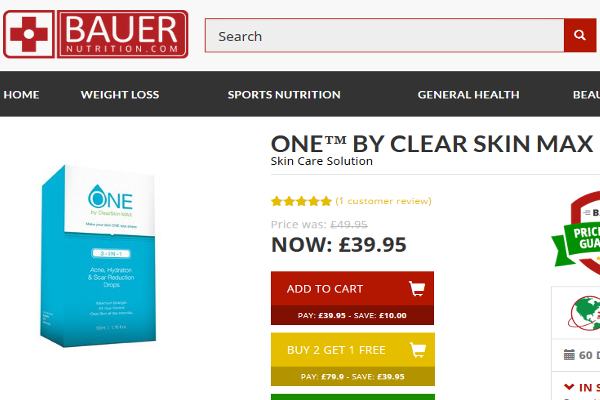 I always support 100% natural acne treatments and One™ by Clear Skin Max seems to be the front runner among the rest of the acne treatment products I've reviewed here. The combination of special herbal cleanser and skin detox formula will give your skin the long-term healing it needs.
I'm quite happy that Bauer Nutrition has this product on the shelf to offer to all acne patients. Its very simple to use and definitely a good value for money! A great 3 in 1 acne solution that eliminates acne, keeps your skin hydrated and removes scarring.