What is AcneFree?
AcneFree is a landmark product from the University Medical Pharmaceuticals which was founded in 1992. This product has been around since 2005 and became one of the leading skin solutions. One of their innovative creations came in the form of AcneFree Sensitive Skin 24hr acne clearing system.
This product is targeted for sensitive skin and is a 3-step system which consists of Corrective Acne Cleanser, Alcohol-Free Acne Toner and Hydrating Acne Repair Lotion which can be aslo used as a spot treatment. It contains mainly of about 1.5 per cent salicylic acid, 3 per cent of benzoyl peroxide and some natural extracts from fruits like apple, orange and lemon.
Other ingredients include sea whip extract, ginger extracts and some other chemicals.
How does AcneFree work?
You have to use all three products daily in the morning and evening so as to get maximum results.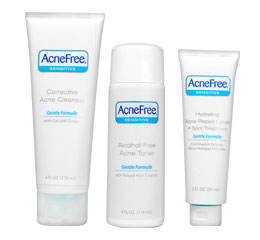 Step 1 is to use the corrective acne cleanser. The subtle exfoliating microbeads, gently deep clean your skin thus removing pore-clogging dirt, oil and impurities.
It fights the acne bacteria with the aid of salicylic acid. To prevent any skin burning effects, it uses the oat and ginger extracts to soothe the skin.
Apply a dime-size amount on to your face after moistening your skin with warm water. Then gently massage into the skin avoiding the contour areas of your eyes.  After that rinse thoroughly with warm water and use a clean towel to pat dry.
Next in step 2, use the alcohol-free acne toner. This is a refreshing antibacterial, anti-inflammatory and anti-redness toner which uses nature fruit enzymes to help balance the tone of the skin and eradicates dead skin cells.
Place a dime-sized amount on a cotton pad and apply to face, avoiding the eye area again. Allow it to dry for a few minutes. You are not to rinse it off as you have to leave it on to follow up with the third step.
In step 3, place a pea-size amount of the hydrating acne repair lotion on your fingertips. Apply gently to your face avoiding the eye areas and leave it to dry. You don't have to rinse it off. You can also use this lotion as a spot treatment for the whole day.
On top of it, it comes with a free advanced cleansing brush worth about $20 with purchase. There are currently no videos available on the usage of this product as it is a new version of the old proactiv sensitive skin solution.
Medical/Clinical Proof
The AcneFree sensitive skin 24hr acne clearing system is meant to treat those with sensitive skin only. It has a special microencapsulated benzoyl peroxide formula which is designed to kill 99 per cent of acne bacteria for 24hrs every day.
Their continuous-release formula which is ten times gentler on skin than benzoyl peroxide, prevents the skin from getting irritation and over drying while clearing up the blemishes. The micro-sized molecules are designed to work better and rapidly by penetrating deeper into pores and you can expect to see results in just 1 to 3 days.
This acne clearing solution has been one of the trademark innovations by University Medical Pharmaceuticals who are specialists in manufacturing skin-related products. In an independent clinical study, it was proven that AcneFree works significantly better than Proactiv.
The Price Factor
It only costs $19.99 and you get a free advanced cleansing brush with extra brush head and batteries. This offer is limited to two per household only. (Prices are subjected to changes)
Money Back Guarantee
You are entitled for a 30-day money back guarantee with a complete refund of your purchase price. It does not cover the shipping and handling price. Their return policy indicates that you have to obtain a Return Authorization Number and complete the packing slip with your order which makes you eligible for money back guarantee.
You may also need to indicate the reason for your return. However, the free gift that comes with it is yours to keep.
Pros
The natural fruit extracts and low level usage of benzoyl peroxide and salicylic acid ensures your skin doesn't suffer from too much damage as this is made for sensitive skin only. It's designed to act gently on your skin while acting tough on acne.
Notably, the microbeads in this product does most of the work as it gets deep into your skin and exfoliates the dirt clogging your pores and sebum. As a result you will have a glowing look on your face.
Cons
As good as it seems, this product has come with its warnings too. You are not to use this product if you are allergic to salicylic acid or aspirin. But it's fair enough to say that you cannot use other topical acne medications at the same time while using AcneFree.
This will lead to skin dryness and irritation of the skin. However, the irony is that you will be warned not to use this product if your skin is very sensitive, especially to the chemical benzoyl peroxide. You may end up experiencing itching, peeling or swelling of the skin.
This product has a bleaching agent in that it cannot come into contact with hair and dyed fabrics which include carpets and clothing. You may also need to apply sunscreen if you are going outside while using this product.
My Conclusion
AcneFree has been around for quite some time and is a product of an established medical university which specialises in skin related products. Most of the users have rated a five-star grading for this product.
They have claimed that they enjoyed significant changes in their skin in just two weeks. Of course these could be from those who may not have suffered from any side-effects as their skins could be normal or just sensitive skin.
But its usage of chemicals doesn't really render it as a totally safe product, which probably affects my rankings for this product. Even though the price is great, its return policy does not cover the shipping and handling charges.
It's still a good product with a good price more or less suitable for just sensitive or normal skin.